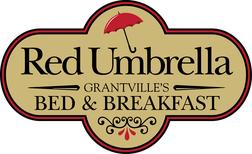 We had several possibilities for names of our bed and breakfast endeavor, but none seemed easy to remember or easy to turn into a link on the Internet. Then one Friday evening Anna was in Lancaster enjoying "First Friday" and came across The Liz Hess Gallery. The gallery is in the middle of Prince Street's gallery row and home to local artist Liz Hess. Upon seeing Liz's Red Umbrella Collection, Anna had a thought...name the bed and breakfast the "Red Umbrella" and see if Liz would allow us to feature her artwork throughout our establishment. Liz was more than willing to work with us and was excited about naming the bed and breakfast the Red Umbrella.

Liz came out to visit our bed and breakfast, bringing various pieces of the Red Umbrella Collection, to personally recommend which artwork would look best in each room, hall and entryway. Almost all of the paintings that are in the bed and breakfast are for sale (we had to keep some for ourselves!), so please don't hesitate to ask Anna if you are interested in purchasing.

Click The Liz Hess Gallery to go to Liz's website to browse and shop her art.

Here is a link to Liz's Red Umbrella Collection.